The use of Instagram hashtags has increased with the rising number of Instagram influencers. Becoming an Instagram Influencer really gets easy if you've figured out the use of the right hashtags. They help you to get more attention that helps you build a larger community of audience, so yes, hashtags are still relevant in 2021. Do you want to know how to use Instagram hashtags in 2021? Do you aim to become a famous Instagram influencer?
If yes, you've come up to the right place. I am here to break down the concept of Instagram hashtags in 2021 and how you can use them to become an influencer of a particular niche!
What are Instagram Hashtags?
Let's know what hashtags are. A hashtag is a symbol # which when followed by text letters or words becomes an Instagram Hashtag, for example, #outfitideas #summervibes #travellersguide, etc. 
How Do Hashtags help get more Followers?
Using these hashtags helps us get discovered by different brands and collaborators. How? When you plan on posting a picture, you click a picture, and you write the content of the post, putting a few hashtags will actually help your audience to know the context, your genre of what you're posting.
By that, you get segregated from the random posts and it becomes more market-oriented. You get discovered by similar influencers and the brands that do related business who finally collaborate with you to work together.
1.Find a Niche for your Content
There are different types of Instagram Hashtags. So now when you know what your niche is about, eg, fashion, travel, the lifestyle you are ready to explore your Instagram hashtags.
2.Search for Relevant Hashtags 
Instagram allows you to put 30 hashtags at a time, so it's preferable to put 10-15 hashtag per post which looks aesthetic to the audience too. Struggling in searching relatable hashtags? Instagram hashtags generator helps you to create and find hashtags of your niche so get going!
3.Make Instagram Hashtag sets
So it's preferable to already research related hashtags and make a set of a few such Instagram hashtags that you put depending on all the niches that you cover. Hootsuite social listening tool helps to create relevant and unique hashtags, thank me later!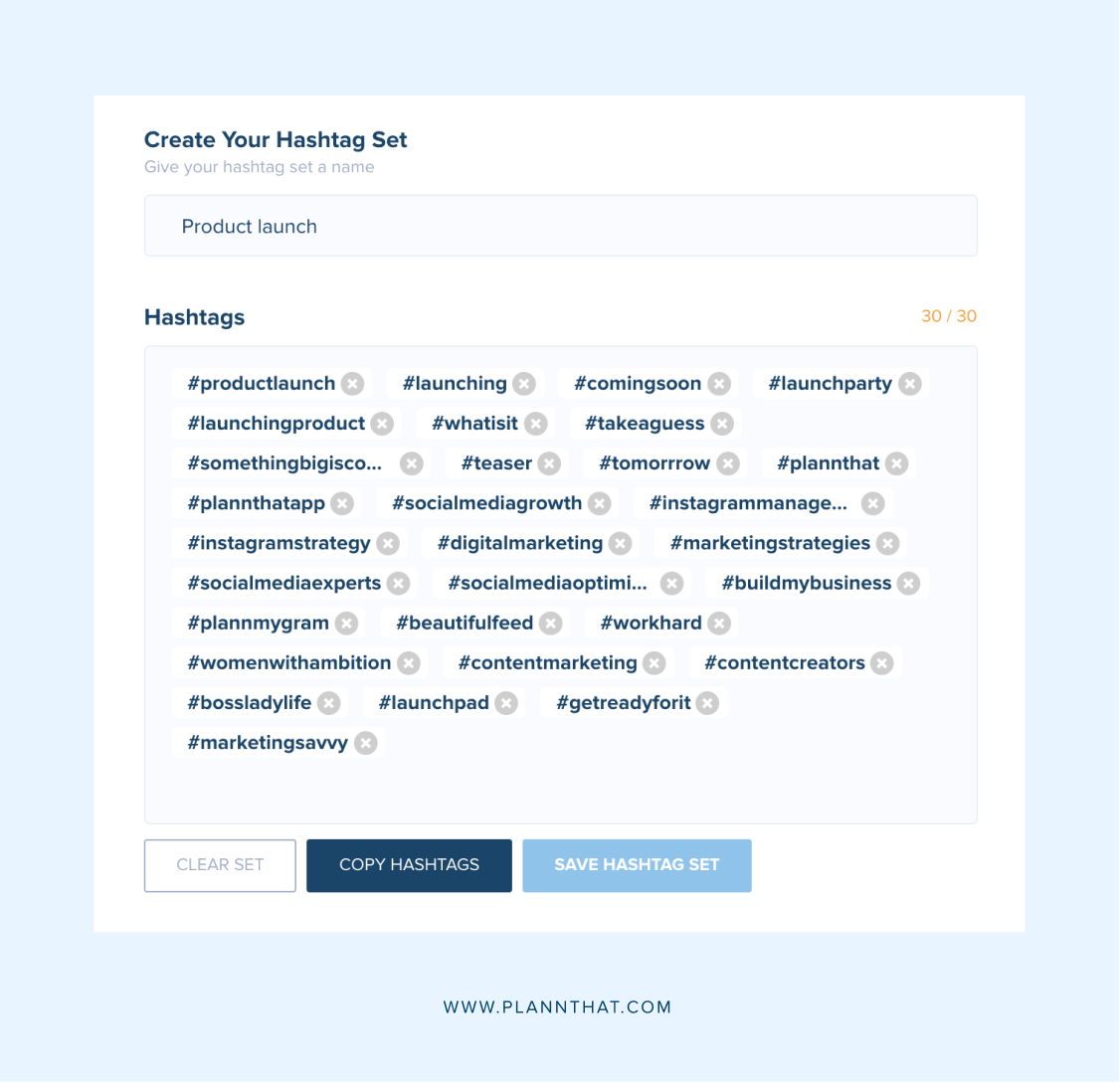 4.Hide Hashtags
If you want to put more hashtags but you know that it might not look aesthetically good. You can also Hide Instagram Hashtags. While you put your caption, put any punctuation or a bullet+enter that will take the post further downwards. Instagram doesn't show such long posts hence your hashtag can easily get hidden.
5.Check Insights
Insights will help to know which hashtag works the best, you can also research trending Instagram Hashtags and create content around them. Put hashtags in your post and stories as well.
6.Avoid Banned or Spammy hashtags
Instagram has separated a few hashtags as inappropriate ones that might contain abusive or offending contexts. Avoiding such hashtags will only help you build a reputation on Instagram. If this is what you find under the hashtag search, you must avoid that one.
Well, I'm sure the steps of how to use Instagram hashtags would be quite clear so down below I'm listing a few top Instagram hashtags that will help you get an idea of using hashtags.
POPULAR INSTAGRAM HASHTAGS
Let me simplify things for you a bit more. Here's a list of a few popular and trending Instagram Hashtags you can refer to according to your niche.
#love (1.824B posts)
#instagood (1.143B posts)
#fashion (807.1M posts)
#photooftheday (792.4M posts)
#beautiful (657.4M posts)
#art (643.6M posts)
#happy (576.9M posts)
#photography (575.9M posts)
#picoftheday (569.4M posts)
#cute (564.9M posts)
#follow (557.8M posts)
#tbt (534.5M posts)
#followme (526.4M posts)
#nature (520.7M posts)
#like4like (515.0M posts)
#travel (494.6M posts)
#instagram (475.6M posts)
#repost (469.1M posts)
#style (469.0M posts)
#summer (452.4M posts)
#instadaily (439.5M posts)
#selfie (421.8M posts)
#me (420.0M posts)
#friends (395.8M posts)
#fitness (393.8M posts)
These are a few popular Instagram hashtags you can but remember, just because they're popular doesn't mean they have to be the most effective ones. It simply means that people have used this hashtag to that extent, the more popular Instagram hashtag might also lead you to get you unnoticed and lost. It's always good to keep a combination of highly tagged hashtags, medium tagged ones, and a few unique ones too.
CONCLUSION
Instagram hashtags do play a major role in getting your content noticed but always keep in mind that the first and foremost is posting quality content. Instagram is all about good photos and aesthetic feed, using trending Instagram hashtags will only help you get better. There are a huge number of Instagram content creators who get brand deals, paid collaborations and so much more and you can do it too!